It remains a very bizarre situation that we have been thrown into by Corona. But with all the restrictions in our social behaviour and all the opportunities around digital collaboration, it seems that we are leaving the worst phase of the pandemic behind us. But where do we go from here? And will there be some kind of magical tipping point when everything goes back to normal? And when will we reach that point? When will we start organising meetings in a physical space again?
Many of our clients ask themselves these questions, and in the development of QANDR, we also think along these lines. We actually think that the question, when can we return to physical space? is not the right question, or that it is a question which is difficult to answer. Because when asking this question, you are assuming that there really will be a clear tipping point. A moment at which the risks for all groups are below a certain level and everyone can start behaving like they did before the pandemic. And then you also assume that everyone will happily get back on their bikes, in the trams or in the cars, that working from home and travelling less will not have become commonplace. Simply asking when there will be another physical meeting assumes that no permanent change has taken place, an assumption we at Noterik do not believe in.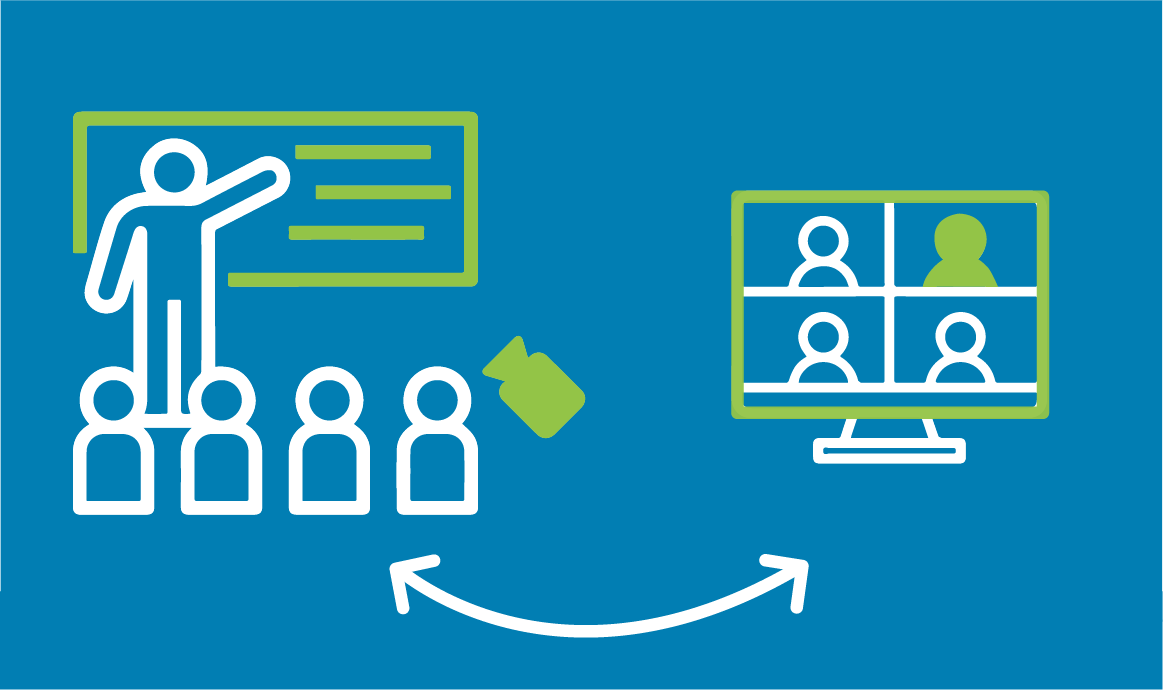 In the development of QANDR, we are looking for a more flexible solution, preferably one that no longer requires you to ask the question, are we going to meet physically or digitally, but one that effectively offers a solution in both situations, and even in a mix of them.
The most obvious option, which is also widely used during the pandemic, is the variant where the QANDR main screen is shown to the remote participants via a video conferencing system (VC) such as Zoom or Teams. This is a very effective method and it was also interesting for us to hear that a number of clients thought that QANDR had been developed specifically for this purpose. Let's be clear about this, that's not true. QANDR was frequently used during physical meetings before the pandemic, especially in market research. That's one of the main reasons why the smartphone, which everyone already has in their pocket during a physical meeting, was given such a central role in the interaction design of the system.
But what do we do in a situation where society is slowly opening up again, where some people can see each other again, but some still want to keep their distance? We think this is a very realistic scenario, at least for the whole of 2021, and that also QANDR will have to be able to respond to such a situation. Instead of asking, do we do it physically or digitally, we asked ourselves in the summer of 2020, how do we reach both? And how do you serve participants in the most practical way both physically and digitally? What would the QANDR hybrid solution look like in practice?
To keep it practical, we think QANDR should not have a permanent dependence on a VC tool like Teams or Zoom. If it's easy to use, of course you should, but in a situation where some of the people are physically present, you don't want them to have to install an application just to be heard. After taking stock of the situation with our regular customers, we came up with the following requirements for the QANDR hybrid:
Main screen visualisations available as a stream via a link

Integrate video and audio of the facilitator in this stream

Possibility for all participants to raise their hands and ask a textual question

Integrate audio of remote participants in this stream

Audio participants in the room integrated in this stream

Optionally adding audio and video from a guest speaker to the stream
As you can see in the list, this track is still under development and only a few functionalities have been delivered in beta. One big step however, has already been taken, that is that the main screen can easily be converted by a facilitator into a stream that can be viewed by people at a distance. For this streaming solution, we chose the WebRTC protocol, which has the advantage that there is hardly any delay and the pointer runs just as smoothly as in a situation where Zoom or Teams is used. In a project with the municipality of Meijerstad, this technique has already been used successfully.
A second functionality that has already been delivered is the video and sound of the facilitator which we can tap from the computer via the webcam and add as an overlay to the stream. This way, people at a distance can follow the facilitator who answers the various questions, in addition to the visualisations. The facilitator can choose to temporarily place his own image full-screen or to position the video in a smaller format somewhere next to the visualisation.
The other items on the list are still on our to-do list and are currently being worked on. Subscribe to our newsletter if you want to hear more about this development and try out beta releases.