QandR is a white-label service, which means that you as an organisation can have your own front-end branding added on top of the tool. This front-end will be used during all your sessions.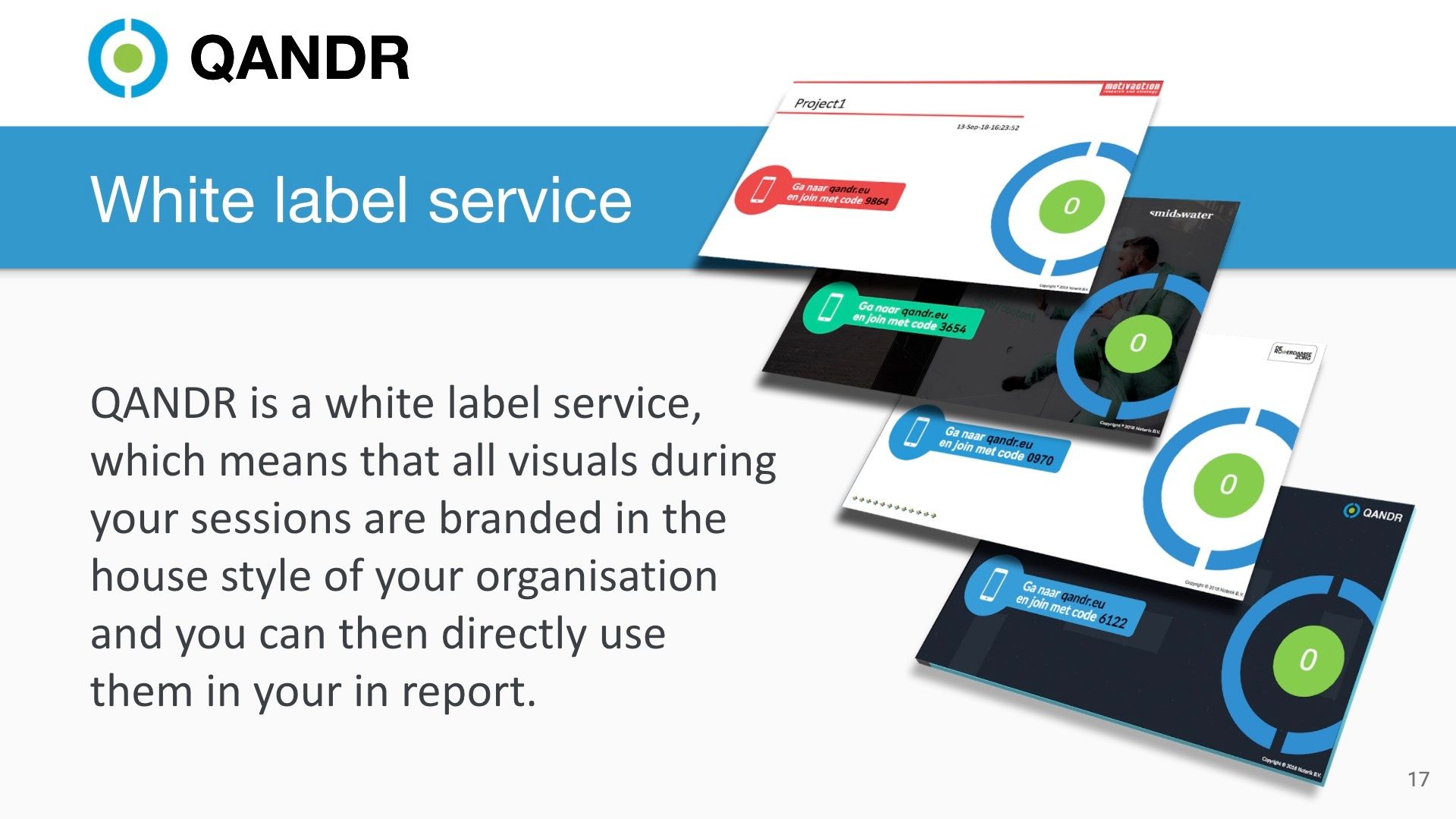 Also for efficient follow-up and reporting of group discussions, it is useful to integrate the organisation's house style in the QandR visuals. This way of whitelabeling ensures that visuals can be used as-is in reporting or social media posts.
We have a guideline available that outlines the possibilities and impossibilities of QandR whitelabeling, and specifies per screen what can and cannot be customised. In short the following things a customizable:
<li>Your logo on the top right</li>
<li>General base colours top bar, background and footer</li>
<li>Fonts on all pages</li>
    <li>Colours for different poll answers</li>
    <li>Colours of arrows of both the Dilemma as the Quadrant</li>
When you start, you can send us a list of the above preferences or maybe a just a ready presentation template if you have that for your organisation. The actual implementation of the front-end style is done by us, we send you an email when it is ready and then you can review it in the dashboard.
A front-end branding is included in every event or annual subscription. It is possible to add another front-end, for a specific project, or if you are doing a secondment contract with a client whereby you want to use their branding. The cost for this one-time activity is 85 euro ex VAT and we need one working day to implement the new style.
If an organisation wishes, QandR may also be marketed under a different label. This means that an own product name may be given, as long as the text "Powered by QandR" is included somewhere in the proposition. See above for an example of Doxa from Italy, who market QandR as SmartFocus.